Charming Chuck – Strap Set of 2 with 2mm Adaptor
IN STOCK
The Mystim Charming Chuck is a belt set perfectly suitable for an especially intense stimulation of penis and testicles and provokes a tingly, sensuous pleasure which can either lead you quickly to the most unexpected heights, or can be enjoyed for hours. Thanks to the fact that the belts are adjustable they can comfortably be sheathed, and afterwards adapted so that they are tight around the glans, the root of the penis or the testicles. Please always connect the strap with the black wire to the area which is closer to the body: If you connect the glans and root of the shaft, connect the glans with the red wire and the root of the penis with the black one this will make the stimulation even more intense.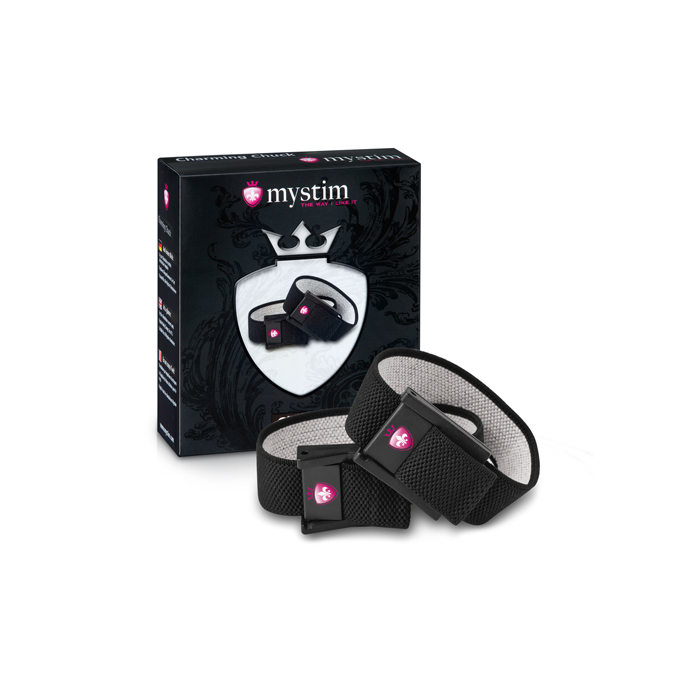 Eccentric set of penis belts with e-stim
Can easily be sheathed and adjusted
Made for a firm grip on your privates
Fits perfectly tight around the glans, the root of the penis or the testicles.
The elastic belts make sure the stimulation is evenly projected.
Why only play with your charms?
He' neither charm- nor harmless and he just wants to fool around: Charming Chuck gives you that tingly sensation – in a nutshell! That would suit you, wouldn't it? The two broad, bi-polar penis-testicle-belts are easy to put on and be adjusted to your size. It's up to you whether you want them on the rocks, tacked to the knob or wrapped around the shaft of your tool – and then have them tightened mercilessly. Your lashed down family jewels are always such a fun to watch – especially your futile attempts to get out of that tight spot. Boing Boom Chuck!
E-Stim
It's a strong charm offensive: Charming Chuck will excite your joy-stick even more, when you add some electric stimulation to the game. Depending on the setting it'll drive you crazy really slow or whip you to sensational climaxes in no time. To activate the poles, you need an electrical device like our Tension Lover or Mystim Pure Vibes. Please use a water-based lubricant like "Bonnie and Glide" or "The Goldfather" gel, which will also increase electrical conductivity. Which setting will put your corona, your penis-root or your testicles on ecstatic fire? Put on the penis-testicle-belts and adjust the size until the toy fits with just a soft pressure. By the way: The nearer to the body you keep the loop with the black electrical cord, the stronger the stimulation will be.
Cleaning
After unplugging or releasing the adapter, Charming Chuck is easily cleaned. It's made of 100% conductive texit tissue, so all you need is water and mild suds.
In addition, you should regularly add a skin-friendly disinfection. And make sure to let your (absolutely not prissy) toy dry completely before you play again.
Technical Details
Type: e-stim penis belt-set
Material: conductive fibres
Colour black
2 poles (bi-polar)
Electrical cords for 2mm socket included
Electrical device required
Connection via button
Instructions in GER, ENG, FRA, ITA, ESP, NL, and RUS
Get to know Charming Chuck
| | |
| --- | --- |
| Weight | 0.12 lbs |
| Dimensions | 0.79 in |
| Diameter | 2.56 |
| What's Included | |
| Materials | |
| MSRP | 47.80 |
| Weight | .06 |
| Manufacturer | |
Related products