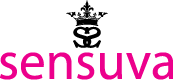 Erosense Sync Hybrid Lubricant 100pc
OUT OF STOCK - Available on Backorder
Order today to lock in this amazing price! Backordered items can be canceled for a full refund anytime prior to shipping.

The Erosense line is entirely pH balanced, glycerin and paraben-free. It is made using a combination of truly healthy ingredients that are natural, organic, food-grade, EcoCert, EU certified. All three formulas are perfect for anyone, including people with sensitivities and allergies. Sync is made with all food-grade ingredients (also pleasant to use during oral play!). It has more silicone (15%) than other hybrids, which gives it a longer lasting glide. It is thin enough to feel your partner through it, and doesn't disappear quickly or get sticky/tacky. Very hydrating, which makes it a good choice for a daily moisturizer. Excellent for people with skin sensitivities, allergies or women going through menopause. Fresh scent and pleasant taste.
Related products