Eva II
SUTRAVIBES EXCLUSIVE: We will upgrade your entire order to FREE 2-Day Express shipping!
Meet Eva II – an even better Eva.
As always, the sleek and unique Eva II gets you there without getting in the way, with flexible wings that tuck snugly under the labia while its body sits on top, allowing clitoral stimulation even during penetrative sex. And of course, it is still the first hands-free, strap-free, non-intrusive couples vibrator, made of the smoothest silicone and allowing women to experience clitoral stimulation during intercourse, or while playing solo.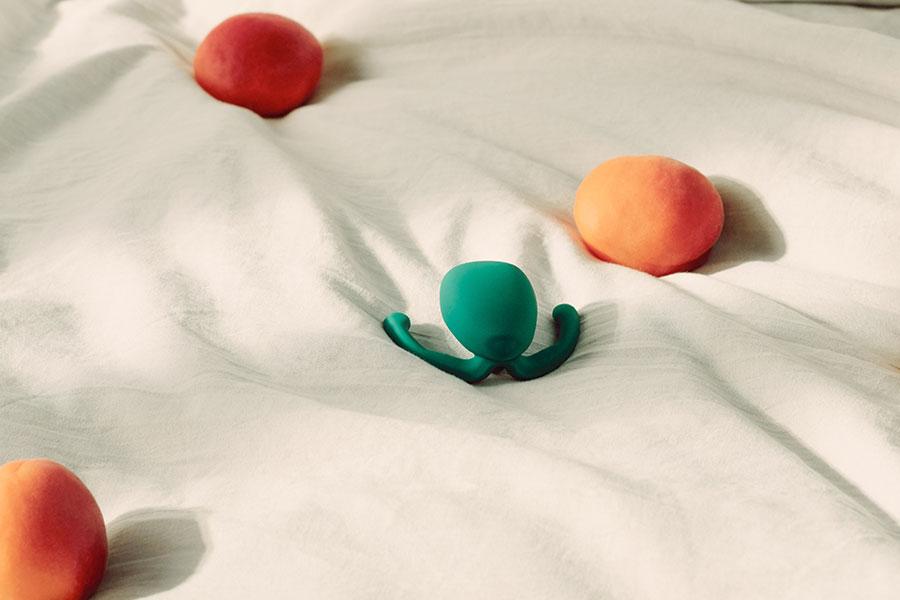 Eva, Hands-Free Vibrator
A waterproof couple's vibrator to give you clitoral stimulation during penetrative sex. Eva stays in place with flexible wings that tuck under your labia. Eva stays out of the way so you can focus on the moment.
Specs
Medical Grade Silicone
Waterproof
3 Intensity Levels
2.4" x 1.7" x 1.1"
Battery Life: 5 hrs on low. 1 hr on High.
Recharge Time: 4 hrs
3 Year Warranty
Inductive Charging Case (included)
We do not recommend using silicone-based lubricants with our silicone toys, as they can have a negative reaction with each other.

Ergonomic
Its rounded edges and soft silicone allow it to sit in your hand like an ergonomic pencil, so you can deliver vibration with pinpoint accuracy.

Medical Grade Silicone
Made with body-safe silicone, free from phthalates and BPA and made without latex.

Three Speed Motor
3 Intensities Levels to use or apply.

Water Proof
We don't want to restrict your play so we made Kip 100% waterproof, making it easy to enjoy and simple to clean.
No Hands, No Hassle
Holding a toy in place can be distracting, even counterproductive. Eva is worn in the vulva, leaving your hands free to support your weight, move around, and focus on intimacy.
More Control
We designed Eva's flexible wings to nestle under your labia for a secure, comfortable fit. Even in adventurous positions, Eva only needs the help of a single finger to stay secure.
More Control
Eva is great for all kinds of play. Use it on your own, or anytime you might want your hands free. However you want to enjoy Eva is the right way to use it!
Best Seller
Body Safe Materials
Medical Grade
Medical Grade Silicone
Multi Speed
Phthalate Free
USB Charge
Warranty
Water Proof
Water Resistant
| | |
| --- | --- |
| What's Included | |
| Materials | |
| Water Resistance | |
| Power Source | |
| MSRP | $135 |
| Manufacturer | |
| Style | |
Related products