Novice Plug
The B-Vibe Novice is our favorite new little friend. This compact, certified body-safe, seamless silicone plug offers 6 vibration levels and 15 vibration patterns for a multitude of erotic combinations. Use with or without the wireless remote control for powerful vibrations in a small, easy to insert plug.
[ux_text text_align="center"]
say hello to novice plug, a premium,
beginner-friendly shape and size butt plug with a
powerful motor located in the tip.
[/ux_text]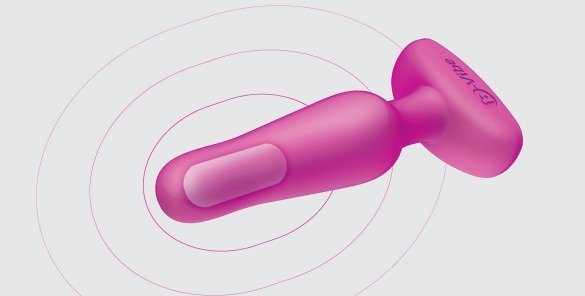 one powerful motor
This amazingly small, yet powerful, butt plug features 6 vibration intensity levels and 15 vibration patterns for a multitude of erotic combinations.
compact, beginner-friendly size
The Novice Plug is about the size of a finger and features a slightly tapered design. This vibrating butt plug is ideal for anal play beginners because of its small size and easy to insert tip.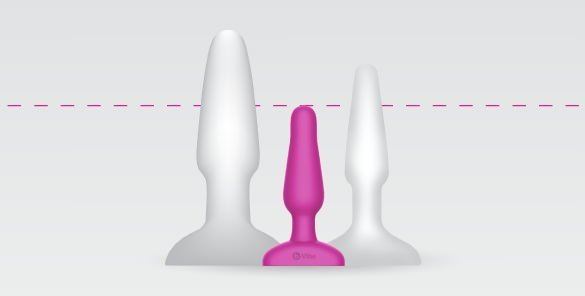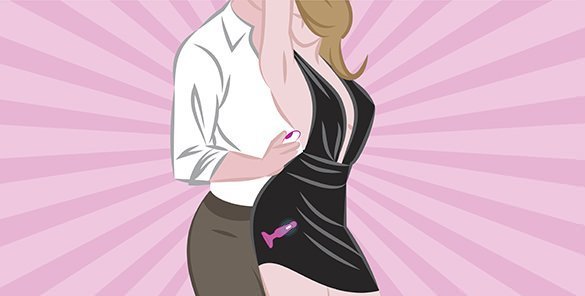 remote or manual control modes
The Novice Plug remote functions up to 30 feet away, offering the option to experiment with secret sensations, daring dates, and naughty "couples play" opportunities.


Hypoallergenic & Body-Safe


Splash Proof & Shower-Friendly
"This silicone anal toy from b-Vibe is small enough for beginners, so it will feel good but won't hurt. If your partner has a vagina, have her wear it during vaginal sex for extra intensity, or to warm up for anal sex. If you have a prostate, enjoy the vibrations during sex, or a nice old-fashioned hand job to take your orgasm to the next level." - Sophie Saint Thomas"

GQ
"If you've yet to spend much time experimenting with anal play, there's no shame in purchasing a toy specifically for novices, like this small, comfortable plug. It boasts all the vibrating power you could ask for in a butt plug, without being too large or intimidating for first-timers." - Laken Howard"

Refinery29
"If you or your partner wants to play with anal stimulation but aren't sure where to start, the Novice Plug is perfect. With a remote for partner control and varying levels of vibration, this plug will 100-percent enhance penetrative sex, oral sex, or solo time (for when your partner isn't in the picture)." - Marissa Gainsburg"

Women'sHealth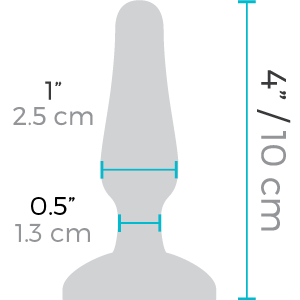 Insertable Size: 3.35" / 8.5 cm
Diameter: 1" / 2.5 cm
Neck Diameter: 0.5" / 1.3 cm
Circumference: 3" / 8 cm
Sensation: Vibration
Motors: 1
Material: Seamless Silicone
If you're new and open to anal play, the Novice Plug is a great way to get started.
Easy to use, the Novice Plug is a small vibrating butt plug that's designed with beginner-friendly features:
Small Butt Plug for First Time Anal — Ever hear the term 'slow and steady wins the race?', the same is true for our backdoors. The anal sphincter is strong yet delicate, so it's best to start small with your fingers, or an easy to insert plug like the Novice. As always: Don't forget the lube! Check out our guide on the best lube for anal play.
Vibes for Pleasure & Relaxation — The amazing thing about vibration is that it helps the muscles around the anus to relax. The Novice Plug includes 6 vibration intensity levels & 15 vibration patterns so that when you're ready, you can experiment with enhanced anal pleasure.
100% Body Safe — The Novice Plug is made from premium, silky smooth silicone and features a flared base. At b-Vibe, we pride ourselves in making anal toys that are hypoallergenic, phthalate-free, latex-free, and non-porous.
Anal for ALL! — The wonderful thing about the anus is that it is an equal opportunity orifice. Vibrations from the Novice Plug tease the countless erotic nerve endings located at the bum. And guess what? We all have them.
Kinky Remote Control Anal Play — The Novice Plug comes with a one-touch, wireless remote control that works up to 30 feet away. So experiment solo or use it with a partner in public or on daring dates! The opportunities are endless.
USB Rechargeable Battery — Powered by a CR2032 lithium cell, a 2-hour charge provides an hour of anal play. The smart battery level indicator on the Novice Plug flashes when charging is required.
Splashproof — The Novice Plug is designed to be splashproof and shower-friendly, so keeping it clean is hassle-free and super easy.
Travel-Friendly — The Novice Plug arrives in a convenient, discreet travel case and has a travel lock to help avoid embarassing vibration "accidents".
1-Year Warranty — Our limited warranty protects the Novice Plug against all defects in materials and workmanship for 1 year. 
Free Guide to Anal Play — We believe that your anal play should be 100% awesome. That's why we include a small copy of our Guide to Anal Play with every b-Vibe Novice Plug purchase.
Related products