The new model is considerably quieter than its predecessor. As soon as the head has surrounded your clitoris, you hardly hear the toy anymore. If you use your favorite pleasure giver in the bath, which is no problem thanks to the waterproof workmanship of the Satisfyer Pro 2 – Next Generation, you have to really prick up your ears to hear your toy!
In terms of sophisticated design, it is faithful to the original: you can enjoy its soft rose gold that excites the female population. The high-quality workmanship not only looks good, but also makes the product hygienic: no water, lubricant, other liquid can enter the inner chamber of the device.
The spectacular technology of the popular magic wand has already proven its worth: tingling negative pressure paired with exciting pulsations stimulate the clitoris without contact in a previously unimagined way. Say hello to explosive climaxes! The new button design opens the door to a realm of multiple orgasms. The Satisfyer Pro 2 – Next Generation is fitted with a +/– button so that you can increase or decrease the intensity as required. The button light is not as bright as the previous version and is thus less conspicuous.
The head, made from skin-friendly silicone, has also been optimized. It is now bigger and wider so that it can surround your clitoris even more effectively, allowing you to forget the world while it provides you with stimulation ranging from tender to intense in 11 exciting steps.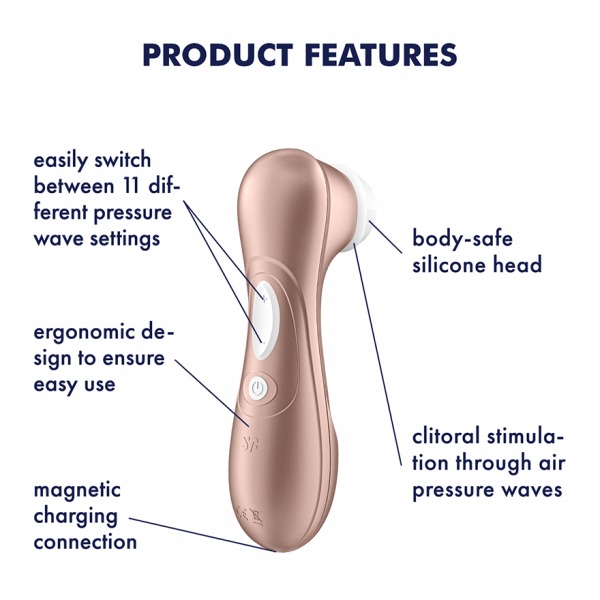 Product information "Pro 2"
Dressed to the nines in a classy tux, the Penguin combines Satisfyer's revolutionary Air-Pulse Technology with a charming and playful design. Ergonomically shaped, the Penguin is perfect for beginners and a wonderfully light travel companion.
11 pressure wave intensities
Whisper mode
Waterproof to rating IPX7
Body-friendly silicone
Easy to clean
Lithium ion battery
15 year warranty
Including USB magnetic charging cable
Specs
Length: 6.5″, 165 mm
Material: ABS plastic, Silicone
Color: Rose gold
Waterproof: Yes
Width: 1.8″, 46 mm
Height: 2.6″, 65 mm
Battery: Akku
With pressure waves: Yes
Stimulation: Clitoral
Suitable for: Woman
Weight: 6.1 oz, 174.7 g

Stimulates the clitoris using intense pressure waves without direct contact

Made from super-soft, body-friendly, medical-grade silicone that's smooth to the touch and extremely hygienic

Thanks to its waterproof (IPX7) finish, this toy can be used safely in water and is easy to clean
The Satisfyer Pro 2: Pressure wave vibrator with guaranteed orgasms 
The Satisfyer Pro 2 is equipped with our innovative Satisfyer Airpulse technology, titillating your clit with gentle or intense waves of pressure. We've already sold millions of them because people love the exciting pulsations. This bestseller will give you such explosive orgasms you won't be able to get a enough of it. It's never been so easy to keep your sexual wellness in balance.
What are some of the other great things about the Satisfyer Pro 2?
Alongside never-before-seen highlights, the next generation of the Satisfyer Pro 2 has an optimized button design that lets you click through 11 exciting levels of pressure waves. It's also waterproof and can be used discreetly in the bathtub or between the sheets thanks to its whisper-quiet motor. A handy USB charger easily charges the battery, keeping your Satisfyer Pro 2 ready for the next session. For an even more breathtaking experience, you can use water-based lubricant – Satisfyer's lubricants specially formulated for this product will add to the fun.

The soft head made of hygienic silicone is larger and wider, so it envelops your clitoris even better, giving you unique sensations. It's also easy to clean with soap and water or a sterile cleaner designed for sexual wellness devices. We're so sure of the quality of our pleasure bringers that we offer a 15 year guarantee. What else is stopping you from taking a spin with this incredibly exciting toy?
USB Charge
Water Proof
Related products