Triplet Beads
B-Vibe Triplet anal beads are the only premium anal beads that feature flexible tapered size beads, an easy grip handle, and two powerful motors. Experiment with the pleasure of 6 vibration levels and 15 vibration patterns, perfect for new or experienced fans of anal play. Seamless, smooth, body-safe silicone makes for comfortable insertion with the use of a water-based lubricant.


[ux_text text_align="center"]
tease and please with triplet, the only
tapered anal beads with two powerful motors
[/ux_text]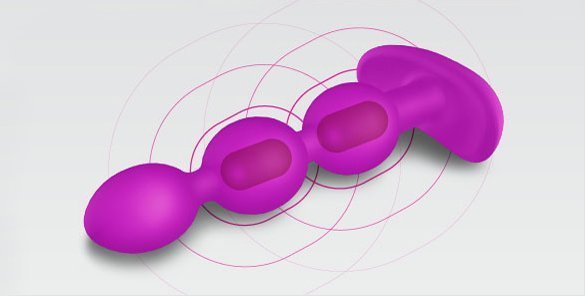 premium anal beads
With 15 vibration patterns and 6 vibration levels, these are the perfect anal beads for new or experienced anal play fans. Triplet Anal Beads are sensual and enjoyable as they go in and feel even better while being removed.
medium-size, tapered anal beads
The tapered size anal beads allow beginners to start slow, with just the smallest bead, and then gradually work towards the medium and larger beads. More experienced users can enjoy the feeling of fullness from inserting all three anal beads.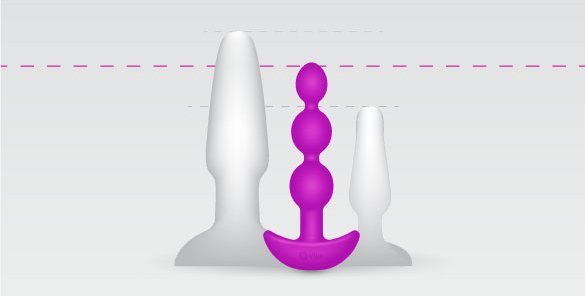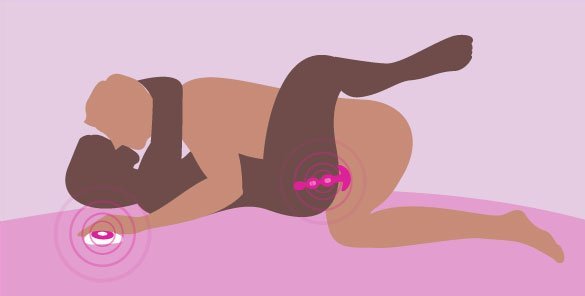 couples-centric design
Pleasure from anal play also occurs through stimulation of the shared wall between the anal canal and the p-spot or g-spot. When worn during intercourse, the Triplet vibrating anal beads provide an overwhelming sensation as they shift during movement and rub against these pleasures zones.



Hypoallergenic & Body-Safe



LED Wireless
Remote Control
"If you're a huge fan of the sensation of anal beads, you might really like this vibrator from b-Vibe. It also has a remote for those who enjoy the ease of controlling a toy with having to hold onto it. The beads on this vibrator are pretty defined for a well-rounded experience and sensation." - Hannah Schneider

Elite Daily
"No butt plug collection would be complete without a set of anal beads, and this easy-to-insert, vibrating option is a safe bet for beginners. If it's your first time using anal beads, it's best to start by only inserting the smallest bead, and gradually working your way up to full insertion." - Laken Howard

Refinery29
"The b-Vibe Triplet is basically what you would get if a vibrating butt plug and anal beads got together and somehow produced offspring. A tower of three graded beads atop a curved base, the Triplet houses two motors and comes with a convenient remote." - Claire Lampen

Women'sHealth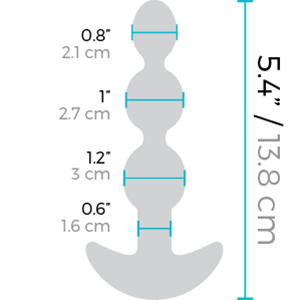 Insertable Size: 4.6" / 11.7 cm
Diameter: 1.2" / 3 cm
Neck Diameter: 0.6" / 1.6 cm
Circumference: 3.5" / 9 cm
Sensation: Vibration
Motors: 2
Material: Seamless Silicone
One of the great things about anal play is that folks of any gender and orientation can enjoy it, not just gay men. And with that fact in mind, let us introduce you to the best sex toy to try if you're new to anal play – the Triplet Anal Beads.
Perfect for Beginners & Advanced Users — The Triplet Anal Beads start small enough to be a beginner's best friend, but they also feature a medium and larger bead for when you're ready to take your anal play adventures to the next level. Pro tip: You don't have to put them all in at once.
Easy to Insert Anal Beads — The tapered end of the Triplet Anal Beads makes it a toy that's extremely easy to insert- it goes in and gets straight to work! Always apply a liberal amount of water-based lube before you get started.
6 Vibration Levels & 15 Vibration Patterns — "So, what's with the vibrations?", we hear you ask. The amazing thing about vibration is that it's not only a pleasurable sensation, but it also relaxes muscles, which is exactly what you want to be doing during anal play. 
Remote Control for Hands-Free Orgasms — The added benefit of the Triplet Anal Beads is the one-touch remote control technology that works up to 30 feet away. Experiment solo or pass the remote to your partner to shift the power dynamic in the bedroom. The possibilities are endless!
100% Body-Safe — The Triplet Anal Beads are made from premium, medical-grade silicone. They're hypoallergenic, phthalate-free, latex-free, and completely non-porous. Hint: see point below.
Splashproof & Shower Friendly — Shower sex just got a whole lot better! The Triplet Anal Beads are splashproof- this means that they can repel drops of water from a shower but they cannot be fully submerged in a tub or pool.
Travel-Friendly Sex Toy — b-Vibe's collection of vibrating anal toys include a handy-dandy travel case for you to bring along on your next vacation. Activate the travel-lock on your Triplet Anal Beads and say goodbye to those nosy TSA agents!
1-Year Warranty / Lifetime Guarantee — Sex toys are expensive, we get it. That's why at b-Vibe, we cover all defects in workmanship or material under normal usage and care for a period of 12 months. We've also recently introduced a lifetime quality guarantee to put your mind at ease.
Get to know Triplet Beads
Related products